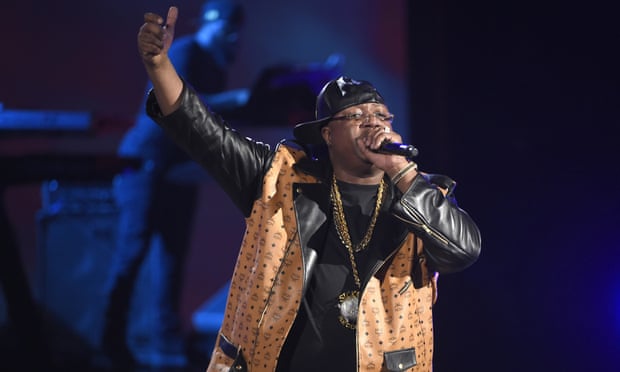 There are plenty of people in the annals of rap who've talked a good game but never quite managed to live up to the self-made hype – but Earl Stevens, AKA E-40, isn't one of them. The Vallejo, California native started making records as part of the Click in 1990: a quarter of a century later, he remains criminally under-appreciated outside the Bay Area, despite a string of releases that have consistently expanded hip-hop's potential, and a facility for coining catchphrases that permeate the argot of the genre worldwide (not to mention probably being the only rapper with his own wine range).
E-40's first brush with pop stardom came in 1997, when Things'll Never Change, a single sampling Bruce Hornsby and the Range's The Way It Is, scraped into the US top 30 after the album it was taken from, The Hall of Game, hit No 4. A decade later, My Ghetto Report Card rode the buzz generated by the Bay Area's hyphy scene (and the cachet that album's co-producer, Atlanta's Lil' Jon, had helped build around crunk) to a Billboard top-three placing. But for the rest of his quarter-century of creativity, he has stayed well below the commercial radar, even as phrases and slang he has either popularised or has a credible claim to having invented – "fo' shizzle"; "you feel me?"; the use of "scrilla", "cheddar" and "gouda" as synonyms for "money" – have slipped into far wider usage. (Sadly, other coinages – such as "hizzelicopter" – are yet to spread much beyond his records.)
From a perspective several thousand miles to the east, E-40 seems to have suffered from misperceptions and bias based around geography. While the UK music press seemed ready to accept Los Angeles gangsta rap from the time of NWA onward, the music being made by Eazy-E, Dr Dre and Ice Cube's contemporaries a few hours up the Pacific Coast Highway never seemed to connect. Alongside fellow Bay gangsta pioneers Too $hort and Spice 1, E-40 was signed to BMG's Jive imprint during the post-Chronic 1990s. His deal with them followed years of selling records independently out of the back of a car: as hard as a record company might try, it's not going to be able to replicate that business model in another city, never mind another country. The records were released in the UK, but never really pushed: when the British monthly Hip Hop Connection asked about sales figures for Spice 1's most recent album back in the mid-90s, the label's publicist said it had shifted six copies in the UK. Even if that was a joke, it revealed a deeper truth: this stuff wasn't expected to translate outside northern California, never mind across oceans and continents.
So, for rap fans outside the transmission ranges of Oakland-rap radio stations, E-40 became one of those artists you were aware existed, but whose work stood off to one side of the things you knew. The sheer size of his discography only served to reinforce the barrier: until a 2004 Best Of, there never seemed any easy way in. But the hype around hyphy presented an opportunity, and E-40 was canny enough to seize it with both hands. The great My Ghetto Report Card album, released in 2006, opens with Yay Area, one of the handful of truly experimental, daring and generally aurally flabbergasting rap tracks released so far this century. Producer Rick Rock, who's been credited as an architect of the hyphy sound and had been working with Stevens since The Hall of Game, loops a sample from Digable Planets' Rebirth of Slick (Cool Like Dat) – "we be to rap like key be to lock" – and builds the whole track around its insistent, manic mantra. Around, on top of and woven into this recontextualised shard of the dislocated yet familiar, E-40 offers a potted version of his history to date, like a recap at the beginning of a new season of a returning TV show. "Heavyweight, a vet not a amateur / Looted up, I push pies like Marie Callender," he slurs in that unmistakable, deliberately all-over-the-beat style, lacing jokes, localised reference points and his own slanguage into the brags: "I'm busy gettin' my paper an' ridin' round in my scraper / Interactin', networkin' and campaignin' like Arnold Schwarzenegger." It's the best track on the album but it doesn't overshadow the rest.