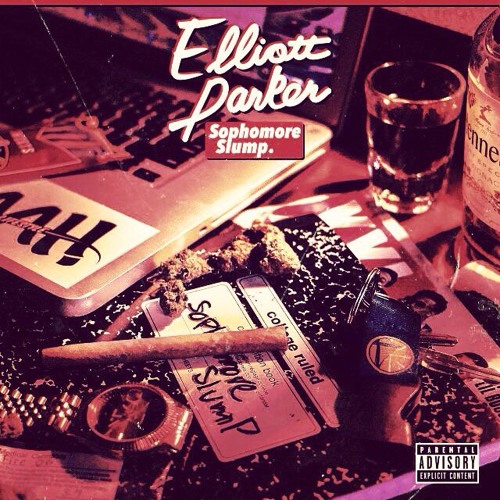 On September 2015 hip hop fans will get a look inside the mind of Elliott Parker with the release of his debut album titled Sophomore Slump on Sticky Note Records. In today's challenging hip hop genre finding new ways to be different can be overwhelming. In this instance the best way for Elliott Parker to be different is by being Elliott Parker. Parker's music can be described as a laid back flow mixed with some wavy, groovy instrumentation.
The love for the bay area hip hop sound is evident through his music as he makes his music based on what his current tastes are. With a hard hitting bass line and synthesized sounds, the lead single, In the Beginning, produced by The Con Men is the perfect example. The album focuses on the many steps it took to becoming a hip hop artist. Parker's verses are a verbalization of his struggles and the trying times to turn his dreams into a reality. Parker states "My music says everything about who I am at the time I record it. For me it is just a verbal diary for that given moment and feelings about each song could change. The life I live and the crazy stuff I do is what inspire me the most. I don't sit at home and make raps all day, I like to live a little and tell you about the story later". An avid listener to L.A. hip hop Elliott Parker blends both northern and southern California regional styles into an eclectic mix that is purely organic and genuinely west coast.
Elliott Parker is getting the most out of life right now. Having fun making music and at the same time giving listeners a glimpse of his incredible journey. Elliott Parker enjoys the art of being an artist. The joy Parker gets from being creative and the love for the culture of hip hop is evident. Elliott Parker is just getting started.